Gateway to success assures you that success is not so far from you; that success begins with the most basic of steps you might have otherwise tagged as irrelevant; that a mind is indeed a powerful tool in determining who we eventually become.
This gem of a book falls in one of my top hacking growth ebook and discusses a very relevant topic and breaks it down for the understanding of all and sundry.
It states and restates the role of positive thinking in self development and continues in that regard to explain not only how it works, but also the numerous benefits you can derive by changing the way you think and streamlining your mind to positivity.
Who Needs To Read This Book?
Everyone! Whether you're in high school, fresh out of college or not in school at all; whether you're a man or a woman; whether you've just gotten your new job or well on your way towards retirement, this book is for you.
Gateway to Success ultimately aims at making you the best version of yourself by educating you on all it takes to be that person you've always wanted to be and teaching you tried and trusted ways to becoming that person.
The Pros In Gateway To Success
What you will particularly enjoy about the book
Gateway to success uses interactive techniques to engage the widest range of people possible in her advisory to allow them the privilege of living the golden rules of life.
Here are some of the other things you'll enjoy from reading this book.
Clarity: Gateway to success is easy for anyone of any age to pick up and digest. From the first page, it kicks right with intent and delivers straight its promise how to help you get everything you've ever wanted in life and more. It also details how success begins from culturing the mind into positivity.
What's best is that it states clearly how all of these can be achieved and what it takes to achieve them.
You might also enjoy its clear statements on how these things can be achieved.
Language: Gateway to Success speaks directly to you and this is one of the things that makes it so beautiful. Reading her feels like listening to an elder sister speak. She is family, not judging, not overtly critical, not destructive but constructive. She injects humor into the conversation from time to time, but she's serious when she needs to be, and she hopes you take her seriously. She is more than anything intent on seeing you grow and bloom into who she knows you have the potential to become.
Practicality: The book is all about the steps and exercises you can take that enable you to be better. For instance, the book captures some important phases which include:
Planning your mental Investments
Watching these Investments grow
Reaping Profits on your investments and reinvesting
The Power of Positive Living
It also creates an avenue for self-examination with an exercise-based approach.
Here, you get to examine yourself and see how you are doing in the real frame of things.
Gateway to Success then goes on to introduce the readers to some other fun and enlightening activities like:
The (Un)official Self-Esteem Rating System
Exposure therapy for the Big Three Fears and other DIY techniques to getting out of crippling conditions of fear that inhibit confidence and reduces the chances of success
Journaling
Its suggestive but unimposing approach: Some self-help books buy into the clichés of trying to impose their will on you by pushing you to believe that their way is the only way to go about things. Gateway to Success, however, takes you on a journey to enlightenment, where each page wields a revelation of a certain truth you have the chance to acknowledge or otherwise refute.
All of these simple truths in the Gateway to Success as explained might otherwise seem too simple, but they are extremely powerful tools that push, engage, and help you to reach your short and long term career and developmental goals in time.
[button_cart bg="atc-1.png" align="center" href="https://67goldenrules.com/gateway-to-success/" new_window="Y"/]
Cons: What's missing from the book
The book is complete in itself and it entirely fulfills the promise of the premise it teaches in the clearest of terms the steps to getting everything you've ever wanted in life and more.
However, it could have been made better with more storytelling.
See, the thing with stories is that they have a greater tendency of ringing home with an audience of all ages and stirring folks to action.
Listening to someone who has gone through the bulk of our fears and challenges share their stories sets something at work within us even when we might not know it does. It provides us with the much-needed impetus and drives to run the race that has been set before us.
Conclusion
The journey to a better life to getting everything you want and more is a journey of several steps that must begin with the art of focusing your mind.
In truth, the world around you might continue to appear fuzzy and dull, but when you put into practice the things that you learn in Gateway to Success, you will find some changes begin to take root in your life.
Eventually, the gap between where you are and where you wish to be will blur out.
At the end of the day, you will realize that the journey of a thousand miles is made easier when you have made a habit of mentally projecting positivity unto your path and working actively one step at a time towards the realization of your life's goals.
Gateway to Success has managed to do what all "How to" books do best- make a promise on building a promise and reinforcing this premise, packing a punch into it till it delivers with so much power that it makes the mind scream in bliss.
Gateway to Success is the kind of book you'd love to read again and recommend to friends and foes alike.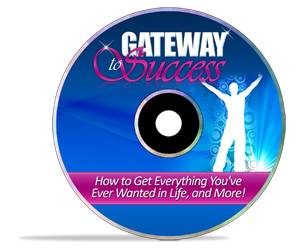 [button_cart bg="atc-1.png" align="center" href="https://67goldenrules.com/gateway-to-success/" new_window="Y"/]